AUthentic Kerela Ayurveda
Therapies
Experience the essence of our authentic Kerala Ayurvedic therapies, tailored to address your specific health concerns and lifestyle imbalances. We take pride in preserving and presenting this ancient healing legacy that aligns individual requirements with seasonal rhythms for a personalized wellness experience. Discover natural holistic solutions for musculoskeletal pain, stress, anxiety, insomnia, weight management, skincare, and hair care. Explore our specialized Panchakarma therapies, for detoxification,  promoting wellness, and preventing diseases. We guide you on the benefits of adopting an Ayurvedic daily lifestyle for improved digestion,  better sleep,  and enhanced mental clarity for a balanced living.
Eye care Therapy
Health package for General Weakness
Detox Therapy
Weight Management
Management of Musculoskelotal Disorders
Refreshing and Rejuvenation Therapy
Relaxation and Stress Relief Therapy
Stress-depression Management
Pre-natal Therapy
Post-natal Therapy
Ayurvedic Facial
Hair & Scalp care Therapy
Insomnia Management
Management of Life style Disorders
Management of Old age Syndrome
Ayurvedic Facial with Abhyangam & Swedana
Ayurvedic Facial with Abhyangam & Shirodhara
Neck, Shoulder, Back pain Relief Therapy
Ayurvedic
in-person

consultation
Meet our team of Ayurvedic practitioners who provide  exceptional care through  in-person consultations.  Experience the benefits of our in-person consultations, including direct interaction, comprehensive assessments, and individualized recommendations for your well-being.  With a deep understanding of Ayurveda and Yoga, they integrate these ancient sciences to deliver personalized solutions tailored to your unique needs. Their compassionate nature ensures a supportive and nurturing environment, while their professional expertise empowers you to achieve optimal health and well-being.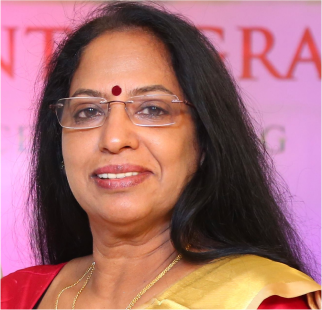 Dr. Ambika Nair
Chief consultant
Dr. Ambika Nair, a renowned Holistic Physician with over 30 years of experience in Ayurveda & Holistic Medicine, hails from a family of traditional Ayurvedic physicians. Drawing upon her rich heritage and extensive professional training, Dr. Ambika has crafted a unique treatment system that integrates Ayurveda & Panchakarma therapies, Homeopathy, Siddha, and Bach flower remedies to effectively address various chronic ailments. Known for exceptional diagnostic skills and a proven track record of successfully treating the root cause, Dr. Ambika Nair had the honor of serving as the personal physician to former President of India, Dr. K.R. Narayanan, and Mr. Bhairon Singh Shekhawat, former Vice President of India.
Dr. Nair's expertise spans different realms of holistic medicine, including Ayurveda, Homeopathy, Bach Flower Remedies, Siddha, Naturopathy, Yoga, and Drugless Therapy. Certified as a Holistic Practitioner in the United States and a Licensed Therapist, Dr. Nair not only brings her exceptional diagnostic skills and expertise in holistic medicine but also extends a warm and empathetic approach, making each patient feel valued and cared for. She truly embodies the essence of Santhigram's values, with compassionate personalized care, and undivided attention, while maintaining utmost patient confidentiality. Dr. Nair stands as the heart and soul of the Santhigram family.
Experience the convenience of choosing between in-person or online consultations, based on your requirements.